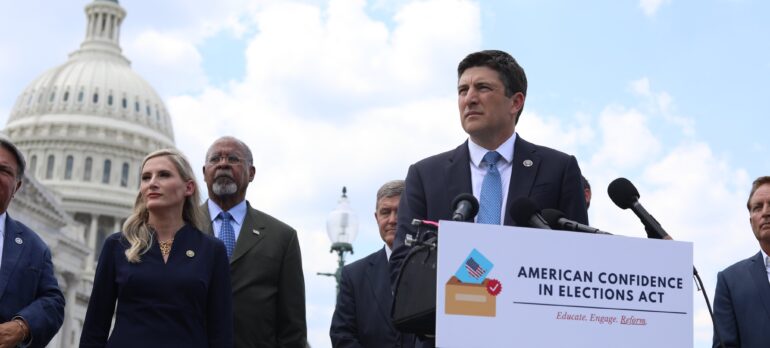 On July 10, Committee on House Administration Chairman Bryan Steil announced the introduction of the American Confidence in Elections (ACE) Act with other members of the Committee in Atlanta, Georgia.
Chairman Steil stated:
The public deserves confidence in our elections. House Republicans made a "Commitment to America" to restore government by the people, for the people. Congress has the opportunity to pass the most transformative conservative election integrity legislation for the first time in a generation.
In May, LDF Executive Director Lisa Dixon testified before the Committee on House Administration where she explained that the "ACE Act operates within the federal government's limited purview to help increase American's confidence in election processes and outcomes without imposing on the states' primary constitutional duty and responsibility to establish rules of election administration."
While the states are responsible for the administration of elections, the ACE Act seeks to provide helpful information available to the federal government to the states to assist with keeping updated and accurate voter rolls. Dixon added:
The ACE Act would assist states in verifying the identity of those voting by requiring identification to receive a mail ballot or vote by mail in certain circumstances, allowing states to require proof of citizenship for those registering with the federal voter registration form, and updating the REAL ID Act to specify whether a voter is a citizen on the face of a REAL ID. . .

The ACE Act would assist states in maintaining their voter rolls by removing some roadblocks currently in federal law, requiring the federal government to provide voter information to election officials, and flagging potentially ineligible voters for removal.
Dixon also explained that ACE Act would also protect American elections from foreign influence:
To prevent foreign influence in our elections and aid the efforts of the states to prevent noncitizen voting, the ACE Act would require states to keep separate voter registration lists of those who are eligible to vote in state and local elections only; require states to issue ballots to noncitizens that only include those offices that non-citizen voters are eligible to vote on; provide notice to election officials whenever someone is excused from jury duty in the federal courts due to being a non-citizen; clarifies that it is a crime to vote in a federal election if a person is a non-citizen; and make it illegal for any foreign national to make a contribution to a state or local ballot initiative.
One hundred Members of Congress have signed on as original cosponsors of the legislation.
The press conference announcing the introduction of the ACE Act can be viewed in its entirety here.
The latest version of the ACE Act can be viewed here.