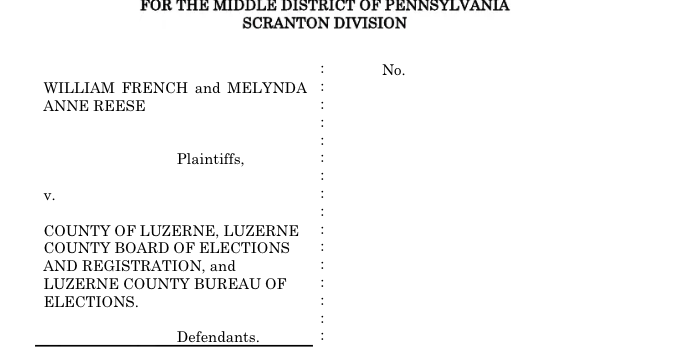 Election Day 2022 was a disaster in Luzerne County, Pennsylvania. A massive failure by the county to provide enough paper ballots caused voting difficulties across the county. In an order extending the poll hours, Judge Lisa Gelb wrote that voters "were disenfranchised and denied the fundamental right to vote."
Two of these disenfranchised voters, William French and Melynda Reese, are suing to "vindicate the violation of their constitutional right to vote by defendants in the 2022 General Election and to prevent future violations of their right to vote by defendants."
This important litigation backed by Lawyers Democracy Fund was featured in an exclusive story published by The Federalist last month.
The article summarized:
Luzerne County was coal country and once a Democrat stronghold, before Donald Trump ran for president in 2016, when the county voted Republican. The county's election administration in 2022 was, according to the lawsuit, a "catastrophic failure." More than 40 precincts had an insufficient number of ballots, many running out early in the morning on Election Day. The county implausibly blamed high voter interest, but Pennsylvania law requires counties to have enough ballots for every registered voter. Election workers were sent scrambling to office supply stores for paper, and were left untrained for the disastrous day. A court had to intervene to allow a few more hours of voting. Judge Lesa Gelb wrote in her order, "Voters in Luzerne County through no fault of their own, were disenfranchised and denied the fundamental right to vote." Left-wing groups pressured the county election board to certify the election results, even though the first vote to certify failed to pass. The county election board bowed to the pressure.

Even with the problems faced by thousands of voters, including not being able to vote, no election contest was challenged because of the poor administration.
Lawyers Democracy Fund is proud to support the disenfranchised voters in their efforts to prevent a similar disaster from happening in the future.
Stay up to date with the lawsuit here.