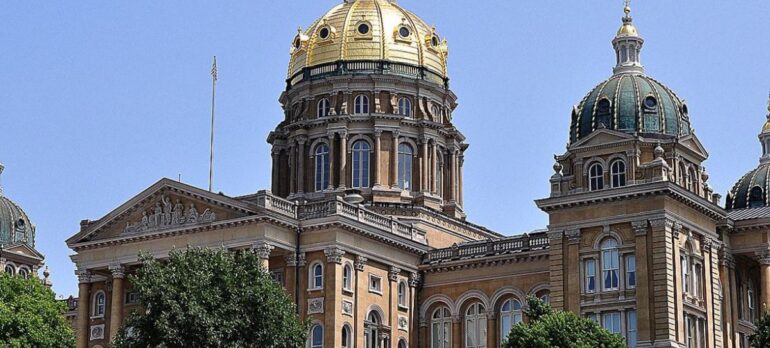 In 2021, Iowa enacted two bills to strengthen its election procedures – Senate File 413 and Senate File 568.  Together, they add several meaningful reforms to make it easier to vote, according to uniform practices, while bolstering election integrity.
S.F. 413 was the first major elections bill passed by Iowa in 2021 and institutes several common-sense changes to Iowa's election laws.  The bill:
Establishes parameters for drop boxes to ensure uniformity and security throughout the state;
Enacts reasonable limitations on who can return another voter's completed absentee ballot;
Prohibits election officials from unilaterally mailing ballots and applications to voters;
Tightens what was a comparatively long election timeline;
Extends the time before Election Day for officials to notify voters of a change to their polling location from four days to at least one week;
Implements uniform voter list maintenance requirements to ensure the accuracy of voter rolls;
Protects poll observer rights and duties from partisan election officials' interference;
Establishes a cure period for voters to correct deficient absentee ballots;
Requires a voter to sign his or her absentee ballot envelope for the ballot to count;
Implements penalties for election officials who violate the election code; and
Improves enforcement provisions to protect against bad actors in elections.
S.F. 568 was signed into law a few months after S.F. 413 and similarly advances election integrity in Iowa.  Among other changes, S.F. 568:
Allows political parties and non-party political organizations to intervene in lawsuits;
Permits parties to challenge nomination petitions or certifications where the information contained therein is incorrect or incomplete;
Requires voters to present proof of identity before being able to register to vote and to have their provisional ballot counted;
Establishes procedures to protect printed results and memory devices of voting equipment;
Ensures satellite voting locations are adequately staffed, accessible to disabled voters, and used without jeopardizing ballot security and secrecy; and
Sets in motion the creation of a ballot application and ballot tracking system.
Immediately upon enactment, a lawsuit was filed to challenge S.F. 413.  The lawsuit was later amended to challenge the provisions of S.F. 568 also.  LDF published an in-depth memo comparing the numerous provisions contained within these bills to similar, valid election procedures already in use by numerous states across the country to demonstrate the degree to which the bills' provisions are squarely within the mainstream.
To view LDF's analysis of Iowa's new voting laws, click here.