Lawyers Democracy Fund (LDF) is a non-profit organization created to promote social welfare by engaging in activities to promote the role of ethics and legal professionalism in the electoral process.
Join our biweekly voter ID and mandatory voter registration update email list
LDF hosted a lunch attended by over 160 conservative attorneys and featuring FEC Commissioner Matthew Petersen as the keynote speaker.  Pictured: Commissioner Petersen speaking, top and left; LDF Board Member Joanne Young introducing Commissioner Petersen and explaining the importance of election integrity, right.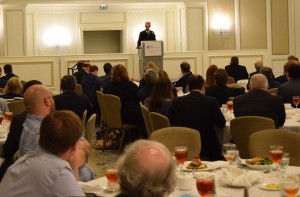 LDF Vice President Tom Spencer published an op-ed on how states are protecting election cybersecurity:
Our federalist structure, which gives states the primary control and responsibility for election administration, is the best defense against the hacking of an election. Our decentralized system consists of thousands of different jurisdictions, which use different procedures, equipment, servers, vendors, and locations for data at every step of the election process, from voter registration to the final certification of results. Federalizing the administration of elections would remove this vital safeguard.

The media would have you believe that unless Congress or Homeland Security act, these diverse systems remain vulnerable to cyberattacks, as the states are too backward or unconcerned to protect their own systems.

Nothing could be further from the truth.

States and localities around the country are experts in election administration and have been thinking about and protecting the security of our election system long before it ever entered the national spotlight. . . .

Those who wish to sow discord in the U.S., like Russia, have found reliable allies in politicians, pundits, and computer scientists who are eager to create a centralized election administration system that is far easier to hack.

This is far worse than simply casting doubt on our election systems and election results. Rather, it creates the potential for real harm to our election administration systems while ignoring the efforts of hardworking election officials across the country.
On June 25, 2018, the Supreme Court in Abbott v. Perez overturned the lower court's finding that the Texas legislature had gerrymandered legislative districts against Hispanic citizens when redrawing occurred in 2013 after the lower courts struck down the districts drawn in 2011. The Court ruled that the district court…
On June 20, 2018, the Senate Rules and Administration Committee held a hearing on election security preparations that are being made at the local and state level. The committee heard witness testimony from state and local officials, along with the Department of Homeland Security (DHS) Senior Cybersecurity Advisor, Matt Masterson….
On June 18, 2018 the Supreme Court finally gave its rulings for Gill v. Whitford and Benisek v. Lamone. In Whitford, Democratic voters were suing over the way that the Republican held legislature drew legislative districts in Wisconsin. The voters claimed that the districts were drawn in a partisan way…