LDF THIS WEEK
October 3: Join our weekly voter ID and mandatory voter registration update email list.
RECENT HIGHLIGHTS
August 13: LDF hosted a lunch in Denver, Colorado, featuring Secretaries of State discussing issues they faced in election administration.  Georgia Secretary of State Brian Kemp and Louisiana Secretary of State Tom Schedler spoke regarding mandatory voter registration, voter registration roll maintenance, use of technology, voter ID, online voter registration, absentee ballot fraud, state management of elections, increasing voter participation and engagement, and military and overseas ballot distribution and tracking. The Secretaries fielded questions regarding litigation challenges, updating voter registration records to remove ineligible voters, and how they are preparing for the 2016 election.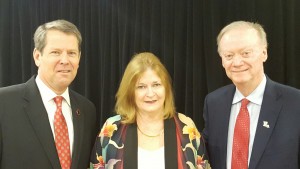 Left to right: Georgia Secretary of State Brian Kemp, LDF Board Member Joanne Young, and Louisiana Secretary of State Tom Schedler.
August 3: Last Friday, the 4th Circuit issued a decision in NAACP v. McCrory, the challenge to North Carolina's voter ID law and other election reforms.  LDF filed an amicus brief in NAACP v. McCrory, which was the only brief to defend the law against the court's argument that it was enacted with a racially discriminatory intent.
July 25: The numbers touted by supporters of mandatory voter registration in Oregon regarding turnout in the May primary are wildly inaccurate:
[A graphic] purports to show the great success of Oregon Motor Voter program and claims that automatically-registered voters had good turnout numbers in the May 2016 Oregon primary election. But it is based on several fundamental errors. And it entirely omits the turnout result for 84% of all Automatic registrants–the non-affiliated voters, of whom only 6% turned out to vote in the primary election (compared with 23% of traditionally-registered non-affiliated voters).

The graph seems to say that a higher percentage of Automatic registrants turned out that Traditional registrants. But, in fact, the overall turnout of the Automatic registrants was 18.7%. The overall turnout of all registrants together was 53.7%. That means that the turnout of the Traditional registrants was in excess of 53.7%.
July 25: The Illinois legislature passed a mandatory voter registration bill, which is now under consideration by the governor.  In addition to all the problems normally associated with mandatory voter registration, the proposal in Illinois is opposed by the State Board of Elections and would place a financial and logistical burden on a state that is facing a budget crisis.  Learn more about SB0250 by clicking here.  Learn more about the problems with mandatory voter registration in Illinois: Illinois Mandatory Voter Registration Talking Points.
May 16: Oregon's closed primary is Tuesday, May 17, and many voters added to the state's voter registration rolls through its new mandatory voter registration program will be disenfranchised in the primary.
LDF Board Member Joanne Young explains the problem: Oregon's Mandatory Voting Law Backfires, Could Lead To Primary Disenfranchisement.
Even the mainstream press recognized the issue, though it is generally in favor of mandatory voter registration: Oregon automatic voter registration a success, with a hitch.
As of April 30, 76% of voters registered through Oregon's new automatic voter registration system had not declared a party affiliation.  Unless they registered a party affiliation by April 26, they will not be able to vote in Oregon's closed presidential primary on May 17.
April 25: Judge Schroeder of the U.S. District Court for the Middle District of North Carolina issued a 479-page decision dismissing all challenges to North Carolina's changes in voting laws: voter ID, elimination of same-day registration, shortening of the early voting period, elimination of pre-registration for 16- and 17-year-olds, and requiring voters to vote in their assigned precincts.
The opinion is here, and review helpful analysis of the decision by Prof. Rick Hasen, by Hans von Spakovsky, and by Kaylan Phillips.
April 7: LDF Board Member Joanne Young published an op-ed about the DMV's mishandling of voter registration data and the risks of expanding the DMV's role through automatic voter registration: The DMV Has a Terrible Track Record of Handling Voter Registration.
February 8: LDF Board Member Joanne Young writes an op-ed in the Daily Caller – "How Hard Would It Be to Steal the New Hampshire Primary?"