Join our biweekly voter ID and mandatory voter registration update email list.
ACTIVITY HIGHLIGHTS
January 2019:  LDF published an analysis of the election administration provisions of House Resolution 1 (HR 1):
House Resolution 1 (HR1), otherwise named "For the People Act of 2019", is the omnibus election law bill filed in the House of Representatives by its new liberal majority. The legislation is sweeping in nature, overturning the federalism foundation of the electoral process in the United States that has been in place for the past two centuries.

The 571-page bill includes over 30 significant new mandates placed on the states from the federal government, not including the dozens of other smaller requirements, policies, and centralized standards placed on the 50 states and over 8,000 local jurisdictions that administer elections in the nation. The far-reaching legislation would reverse the current decentralized nature of elections by preempting state laws across the country and placing the control of election and voting policy within the federal government. . . .
August 3, 2018: LDF hosted a lunch attended by over 160 conservative attorneys and featuring FEC Commissioner Matthew Petersen as the keynote speaker.  Pictured: Commissioner Petersen speaking, top and left; LDF Board Member Joanne Young introducing Commissioner Petersen and explaining the importance of election integrity, right.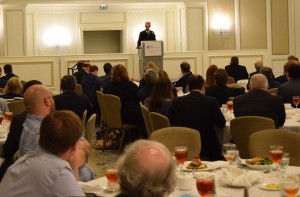 April 18, 2018: LDF Vice President Tom Spencer published an op-ed on how states are protecting election cybersecurity:
Our federalist structure, which gives states the primary control and responsibility for election administration, is the best defense against the hacking of an election. Our decentralized system consists of thousands of different jurisdictions, which use different procedures, equipment, servers, vendors, and locations for data at every step of the election process, from voter registration to the final certification of results. Federalizing the administration of elections would remove this vital safeguard.

The media would have you believe that unless Congress or Homeland Security act, these diverse systems remain vulnerable to cyberattacks, as the states are too backward or unconcerned to protect their own systems.

Nothing could be further from the truth.

States and localities around the country are experts in election administration and have been thinking about and protecting the security of our election system long before it ever entered the national spotlight. . . .

Those who wish to sow discord in the U.S., like Russia, have found reliable allies in politicians, pundits, and computer scientists who are eager to create a centralized election administration system that is far easier to hack.

This is far worse than simply casting doubt on our election systems and election results. Rather, it creates the potential for real harm to our election administration systems while ignoring the efforts of hardworking election officials across the country.
Also in 2018:
October 24, 2017: LDF submitted a letter to the Committee on House Administration in support of voter registration list maintenance
September 8, 2017: LDF submitted a comment to the Presidential Advisory Commission on Election Integrity.
July 19, 2017: LDF President Harvey Tettlebaum was quoted on the Presidential Advisory Commission on Election Integrity in The New York Times:
"We are disappointed with those who choose to condemn the commission even before it has met and certainly before its work product is known," the president of one conservative advocacy group active on election issues, Harvey Tettlebaum of the Lawyers Democracy Fund, said in an email this week. And conservatives say there is now so much concern about the integrity of elections that the public demands more safeguards against fraud.
May 4, 2017: LDF was pleased to release its Model Voter ID Legislation.
October 17, 2016: LDF Board Member Joanne Young published an op-ed about the importance of procedures to protect both election integrity and voter confidence in the outcome of elections:
[T]he Left remains obstinate. Indeed, for the past year, Democrats have filed endless lawsuits against voter-integrity laws and complained that measures to improve election security will burden or disenfranchise voters.

Here's the truth. In the aftermath of the infamous 2000 election, a blue-ribbon commission was created. It was chaired by former Democratic president Jimmy Carter and former Republican secretary of state James Baker. The commission recommended a simple, serviceable, and straightforward solution: require voters to present a voter ID before they can vote.

And yet, the Left fights measures like this every step of the way. It will tell you it's oppressive to get an ID — even though the Supreme Court has ruled that a trip to an election office or the DMV does not place an undue burden on voters. Indeed, the Left opposes any real effort to keep the rolls accurate, even simply to remove the names of non-citizens, dead people, and those who have moved and registered in another state. . . . Inaccurate voter rolls also exponentially increase the potential for fraud. 
August 3, 2016: Last Friday, the 4th Circuit issued a decision in NAACP v. McCrory, the challenge to North Carolina's voter ID law and other election reforms.  LDF filed an amicus brief in NAACP v. McCrory, which was the only brief to defend the law against the court's argument that it was enacted with a racially discriminatory intent.
July 25, 2016: The numbers touted by supporters of mandatory voter registration in Oregon regarding turnout in the May primary are wildly inaccurate:
[A graphic] purports to show the great success of Oregon Motor Voter program and claims that automatically-registered voters had good turnout numbers in the May 2016 Oregon primary election. But it is based on several fundamental errors. And it entirely omits the turnout result for 84% of all Automatic registrants–the non-affiliated voters, of whom only 6% turned out to vote in the primary election (compared with 23% of traditionally-registered non-affiliated voters).

The graph seems to say that a higher percentage of Automatic registrants turned out that Traditional registrants. But, in fact, the overall turnout of the Automatic registrants was 18.7%. The overall turnout of all registrants together was 53.7%. That means that the turnout of the Traditional registrants was in excess of 53.7%.
July 25, 2016: The Illinois legislature passed a mandatory voter registration bill, which is now under consideration by the governor.  In addition to all the problems normally associated with mandatory voter registration, the proposal in Illinois is opposed by the State Board of Elections and would place a financial and logistical burden on a state that is facing a budget crisis.  Learn more about SB0250 by clicking here.  Learn more about the problems with mandatory voter registration in Illinois: Illinois Mandatory Voter Registration Talking Points.
May 16, 2016: Oregon's closed primary is Tuesday, May 17, and many voters added to the state's voter registration rolls through its new mandatory voter registration program will be disenfranchised in the primary.
LDF Board Member Joanne Young explains the problem: Oregon's Mandatory Voting Law Backfires, Could Lead To Primary Disenfranchisement.
Even the mainstream press recognized the issue, though it is generally in favor of mandatory voter registration: Oregon automatic voter registration a success, with a hitch.
As of April 30, 76% of voters registered through Oregon's new automatic voter registration system had not declared a party affiliation.  Unless they registered a party affiliation by April 26, they will not be able to vote in Oregon's closed presidential primary on May 17.
April 25, 2016: Judge Schroeder of the U.S. District Court for the Middle District of North Carolina issued a 479-page decision dismissing all challenges to North Carolina's changes in voting laws: voter ID, elimination of same-day registration, shortening of the early voting period, elimination of pre-registration for 16- and 17-year-olds, and requiring voters to vote in their assigned precincts.
The opinion is here, and review helpful analysis of the decision by Prof. Rick Hasen, by Hans von Spakovsky, and by Kaylan Phillips.
April 7, 2016: LDF Board Member Joanne Young published an op-ed about the DMV's mishandling of voter registration data and the risks of expanding the DMV's role through automatic voter registration: The DMV Has a Terrible Track Record of Handling Voter Registration.
February 8, 2016: LDF Board Member Joanne Young writes an op-ed in the Daily Caller – "How Hard Would It Be to Steal the New Hampshire Primary?"